The Deliciousness of Being A Woman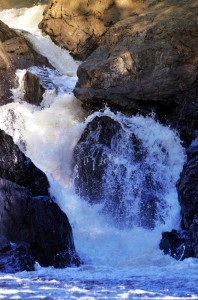 The eye can travel down a woman much like water
flowing down the river. Her curves create
eddies for the imagination to linger
in her softness. Her mounds
Hold
more than the world can bear to know. No straight
lines attached to endpoints. Only divergent, coupling
knotting, opening connections that (re)invent
the world from what is
held in her body. Endless
time is. Limitless, melting away in the curves
folds, bends, depths and the eyes. The eyes that can
hold and steadily grow the magical possibilities
of the soul. Capable, forgiving
soft and strong.
Co-created by:  Francene Watson, Olivia Ullrich, Alicia Goodwin & Mary Beth Anthony
I was at a clothing party on Thursday with about 20 other women.   A range of body type, age, and ethnicity present.  I was just in awe of the curves and shapes we women possess.  Walking artistry – flowing river of goodness.
In the spirit of this I asked a few friends to co-write a piece that speaks to the "yum" of being a woman.