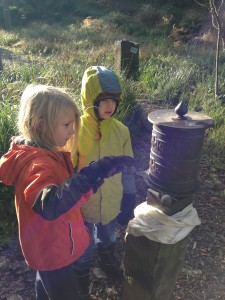 The turning of the calendar was significant for me this year.  I was invited to set intentions for the next 500 to 26,000 years.  Funny… when the invitation is so large… the intent can become very simple.
Intention = Let us choose love.
To mark this passage in a memorable way I took my sons to Whidbey Island to a favorite spot – The Earth Sanctuary.  This nature preserve is a gift for those to come in 500 years.   Imagine tending to life not only for today, but also for a place that your great great great great grandchildren would visit.   On these 72 acres you will find a variety of sacred alters including Tibetan Prayer Wheels.
You can imagine the fascination little ones find with the mechanics of objects that spin at high speeds.  I said, "go ahead and spin, as long as you have a prayer in your heart for the children of the world."
As a mother I was thrilled to imagine the prayers twirling through the ethers to your children and grand children and those yet born – to know they are loved.