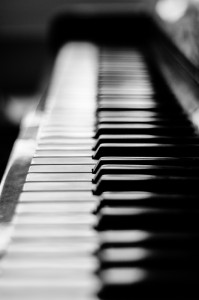 The moment I heard Jessica Williams play Erik Satie's Gymnopedie something inside of me cracked open and my love for the piano was released.
I am a closet piano player (can't even say pianist yet).  I take weekly lessons (which make me sweat) and I try to sit at the piano 15-20 minutes each day.
I allow this art to change me, work me, and turn me inside out.
The process of making art is a scary act of confronting the perfectionist in me.  Daily it brings me face-to-face with my lack of confidence, vulnerability, insecurities, and  beginners mind and skills.
I often ask myself why I eagerly step into this discomfort.
The truth is: it is way more comfortable to vaccum, fold laundry and return emails…but tending to those chores doesn't reach into the corners of my heart.
Playing the piano creates a bridge to my soul…opens up the fresh waters of creativity…reconnects me to all beginners diving into new ways of being…and I can feel myself, my skills and even my skin growing and stretching into new forms.  Playing the piano is a way of making a new me…and I love the results.
As Robert Henri says, "A work of art is the trace of a magnificent struggle."
Hearing these words from a masterful artist reminds me to dive into the discomfort, wrestle with my insecurities, set aside the shame, and watch in amazement at the alchemical process taking place in me.
Tell me about your new growing, stretching and becoming…!
Enjoy a moment of Erik Satie! http://www.youtube.com/watch?v=LBhZAQlOtwg