My son handed me this stone as we sat on the shore of Lake McDonald in Glacier National Park.
"Here Mom. This stone is for you." He said with intention.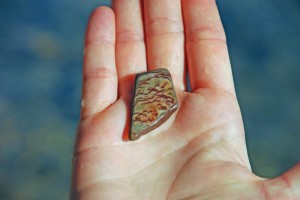 I felt my whole insides fill up – full to the brim.  The kind of full that melts out your eye balls.  How does the beauty of a small stone that is rippled with red scales coming from a little boy, sustain me so deeply?
I actually felt seen by my son.
What is really needed to sustain a relationship?
Hafiz reminds us that, "We don't need sugar, flour or rice or anything else. We just want to see our dear ones."
I invite you to play with the habitual ways you relate to your dear ones, leave out all the ingredients that are taste less and see into who they really are.  I'll be curious what you cook up.